News & Events

The Makers Assemble: The Volunteer Phenomenon of PPE Makers
Thursday, Sept. 29 | 7 p.m. | Scripps Cottage
Flattening the Curve During the COVID-19 Pandemic in the U. S.
In March 2020, the COVID-19 pandemic surfaced with great force, revealing that the national supply of personal protective equipment (PPE) was dangerously underwhelming. Hospitals and clinics, nursing homes and assisted living centers, funeral home workers, essential workers, first responders, and schools at all levels were requesting immediately that someone (anyone who could) step up to make desperately-needed PPE (face masks, hospital gowns, hospital caps, ear savers, and face shields). Volunteer quilters, sewists and 3D printer enthusiasts emerged in a groundswell of life-saving gendered disaster response, creating PPE for those in need.
Marybeth C. Stalp, University of Northern Iowa, Kimberly Kelly and Braden Leap, Mississippi State University collected data from 740 makers through qualitative phone interviews and an online qualitative questionnaire from July 2020 to January 2021. They consider makers broadly, and include makers to be people with sewing and 3D printing skills, those who cut fabric and elastic and assembled mask kits for sewists to pick up, sew, and drop off for distribution, 3D printing groups that cut and printed face shield parts and ear savers and distributed them in person or mailed them across the country to those in need.
The purpose of this research is to highlight and understand the groundswell of volunteer work accomplished by makers: quilters, sewists, and 3D printing enthusiasts. The authors focus on how makers, and in particular quilters and sewists, generously devoted time money and attention to flattening the curve and caring for their communities.
Commencement 2022
The Department of Sociology organized a celebration for Sociology graduating seniors on May 13, 2022 in Tula Community Center. We recognized the Outstanding Graduating Senior, Amaya Childes and her Most Influential Faculty Member, Professor and Chair, Minjeong Kim. Students, parents, faculty and staff were also in attendance to celebrate this momentous occasion. We are truly proud of all our graduates and their accomplishments!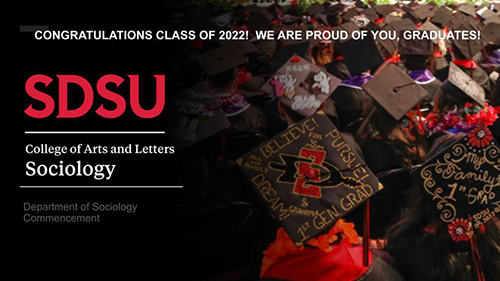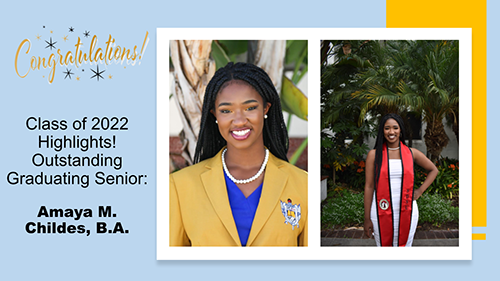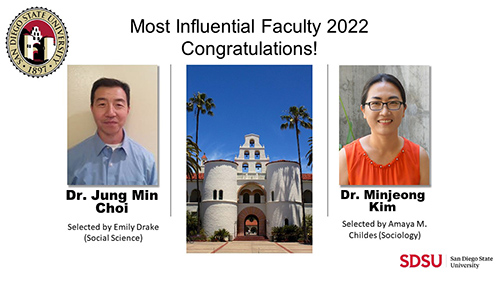 Past News and Events