News and Events
Commencement 2019
Congratulations to the graduates of 2019! Commencement was held on Friday, May 17, 2017. View photos from the department ceremony.
Mind, Body, and Self in Contemporary Society - 2nd Annual Graduate Student Conference
Saturday, April 20, 9 am – 5 pm, Hepner Hall 221
Keynote Speaker: Dr. Dylan Rodriguez, UC Riverside, Professor, Media and Cultural Studies
Join us for the 2nd Annual Graduate Student Conference. This conference aims to examine the ill-effects of contemporary society toward the individual whether it is the mind, body, or self. We also seek to engage in critical dialogue, ranging from social institutions' impact on certain bodies to the strain and stigma on mental awareness. We hope to create an interdisciplinary discourse regarding the extent of contemporary society's effect on the individual.
Hosted by Sociology Graduate Student Committee at SDSU and made possible by IRA Funds.


2nd Annual Praxis in Education Student Conference
Saturday, April 20, 8 am - 5:30 pm, Conrad Prebys Student Union
The conference was created with the vision to provide an event for the student community to convene, focused on the goal of transforming education through educational praxis. This is a great opportunity to connect and learn from each other, as well as share and expand on our knowledge. This year's keynote speaker is Dr. John W. Murphy, Professor of Sociology at the University of Miami, FL. As one of the most prolific writers of our generation in the field of social theory, Dr. Murphy has covered topics including globalization, narrative medicine, health, stratification, race, education, and postmodernism. Dr. Murphy's writing and research are all underpinned by community-based philosophy.


Roots of Immigration: Public Security Policies in El Salvador
Monday, April 15, 1 pm - 1:50 pm, Scripps Cottage
Presentation by Dr. Jose Morales, Former Dean of the Law School at the National University of El Salvador and Vice-President of the Central American Commission for the Defense of Human Rights
Co-sponsored with the CAL Dean's Office, Interdisciplinary Human Rights Initiative, Latin American Studies, Political Science, and Chicana and Chicano Studies.


Explore SDSU
The Sociology department took part in SDSU's annual open house, "Explore SDSU." The event took place on Saturday March 23, 2019, 9 am - 2 pm. Professor Beck gave the information session on Sociology (see middle image below).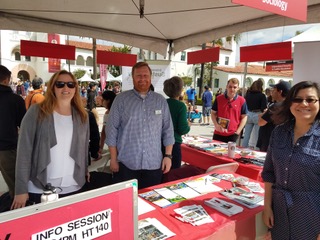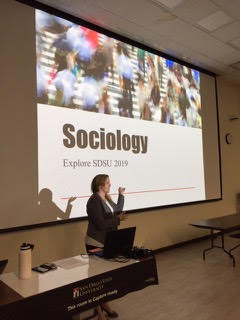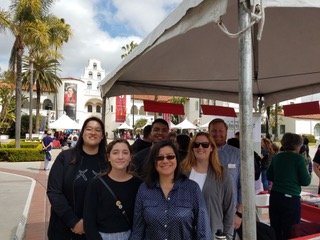 Immigration, Marriages, and Multicultural Families in South Korea: Reflections and Future Directions
Friday, February 22, 2019
8:45 am - 5 pm
Scripps Cottage
Since the 1990s, South Korea began to see the increasing number of labor and marriage immigrants. In 2008, as a response to unprecedented demographic change, the Korean government implemented the Multicultural Family Support Act (MFSA) to provide support for so-called multicultural families. After a decade of the MFSA, workshop presenters critically reflect on the experiences of families with immigrants in Korea.
View the complete workshop schedule
Sponsored by the College of Arts & Letters, the Departments of Economics, Political Science, Sociology, and Women's Studies, the Center for Asian & Pacific Studies, and the Charles Wei-hsun Fu Foundation.

Staff Awards
Congratulations to Monica Cortez who is celebrating twenty-five years of service with SDSU!
Monica began her distinguished career at the Imperial Valley campus. She transferred to San Diego three years ago. We are so lucky to have her. Thanks, for all that you do Monica.

Sorry to Bother You Film Screening
Monday, November 12
8-10 PM
Little Theatre, Hepner Hall
Join us for a Department of Sociology sponsored screening of Sorry to Bother You, a satire that delves into a wide range of subjects from the dehumanizing effects of labor to contemporary issues of race in Oakland California. The film stars Lakeith Stanfield, Tessa Thompson, and Steven Yeun.
Join us following the screening for an informal conversation about the film at Eureka! in South Campus Plaza.

Professor Amy Wong
Congratulations to Professor Amy Wong who was invited to join the SDSU EOP Summer Bridge Faculty! EOP students are first-generation low income students and the Bridge Program allows them to live five weeks on campus and take two classes (earning 6 units). She taught a sociology course last summer and is planning to continue to teach in summer 2019. She "is very proud to be affiliated with this program" and we are so proud that she represents our department in the program!
Amy was also invited to teach an honors course at the University of Jyvaskyla in Finland for the Summer of 2020! This class is sponsored by the Weber Honors College (where she is a faculty fellow) and she is planning to teach her honors course, "Sociology through Fiction."

Dean's List
Congratulations to Sociology majors, Michael Juarez Chuevas, Adam Allen London, and Veronica Rae Roybal, for making the Summer 2018 Dean's List!

CHEPS Fellow
Congratulations to Dr. Audrey Beck winner of a Center for Health Economics & Policy Studies (CHEPS) Faculty Research Fellowship for 2018-19.
Grant Awarded
Congratulations to associate professor and new chair of Sociology, Minjeong Kim, for receiving an NSF award for $173,000 in support of her research on Korean immigrants in the U.S.-Mexico border region.
Sally Casanova Scholarship
Congratulations to the newest winner of a Sally Casanova Scholarship, graduate student, Joshua Hudson. The scholarship was awarded to pre-doctoral scholars for the 2018-19 academic year. Joshua was just one of 75 highly qualified California State University students who was chosen from 304 applications. Dr. Minjeong Kim mentors him.
New Faculty
The department would like to welcome its new tenure-track hire: Tim Brown. He will start this Fall 2018.
Dr. Brown will teach Homicide in America (SOC-442) and Seminar: Criminology & Criminal Justice Theory (SOC 743). He received his Ph.D. in Sociology with a concentration in Criminology from Louisiana State University.
Learn more by visiting his bio page.


Past News and Events
Commencement 2018
Congratulations to this year's graduates in Sociology!

Sociology Graduate Student Conference
Sociology graduate Student Committee organized the 27th Annual SDSU Sociology Graduate Student Conference on April 14, 2018. The theme was "Capitalism: Culture and the Individual."
Paper presentations:
"The Commodification of the East and West Coast Rap Beef" — Jonathan Baltazar
"Labor and Takarazuka" — Kimberly Gan
"Music Festivals and Capitalism" — Kelly Gmeiner
"Parental Incarceration: Capitalism and the Destruction of the Family Unit" — Denise Hernandez
"Class in Space, Cultural Hegemony of the Future" — Paul Poggemeyer
"Ethnoracial and Nativity Differences Differences in Intergenerational Financial Transfers" — Arely Sanchez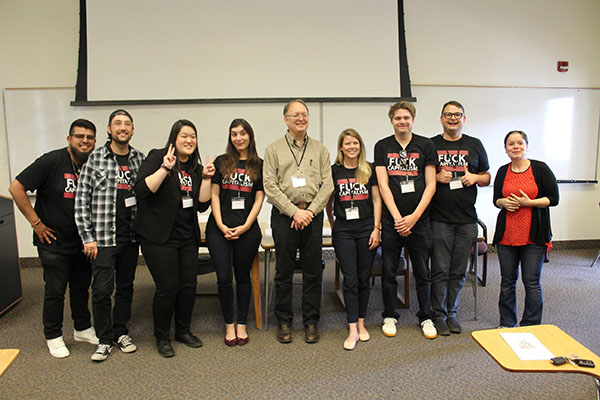 Pictured left to right: Jonathan Baltazar, Sean Jones, Kimberly Gan, Arely Sanchez, Dr. Timothy Taylor (Professor of Ethnomusicology, UCLA), Kelly Gmeiner, Ian Larson, Paul Poggemayor, and Aimee Imlay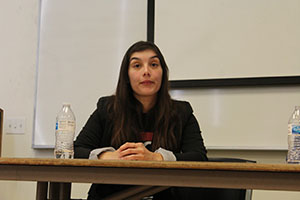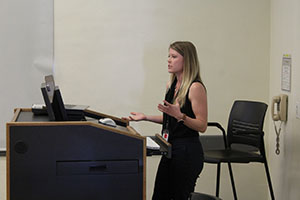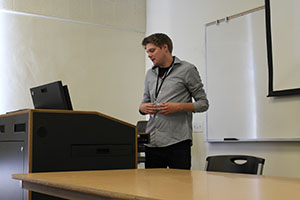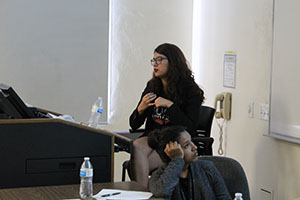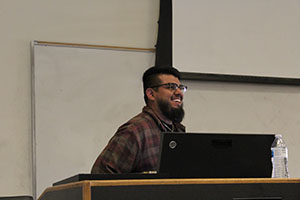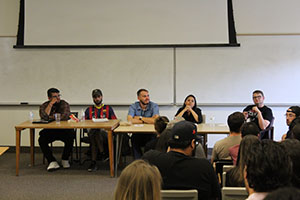 Pacific Sociological Association (PSA)
The 89th Annual PSA Conference "Teaching Sociology: Innovations, Changes, and Challenges" was held March 28-31, 2018 in Long Beach, CA at the Long Beach Hyatt Regency. In addition to the presentations, graduate students got together for SDSU Night at PSA!
Paper presentations:
"Reframing the World through Hip Hop" — Jonathan Baltazar
"Why People Attend Music Festivals Beyond the Music" — Kelly Gmeiner
"Adolescent Children Narratives of Parental Incarceration" — Denise Hernandez
"The Media's Portrayal of Women Murderers/Killers" — Ian Larson
"Advocating for Social Change in Punk Music: A Latent Function

Scholarship Reception held on Wednesday, December 13
Congratulations to Nancy Nguyen (Sociology/Interdisciplinary Studies) and Leonardo Alcaraz (Sociology)! They are the winners of this year's Arts and Letters Alumni Chapter Scholarship, which had close to 200 applicants.
Check out more photos from the event.
Sociology Graduate Students at CSA Conference
Ian Larson, Kelly Gmeiner, Arely Sanchez, and Sean Jones presented at the California Sociological Association (CSA) conference in Sacramento on November 17-18. Ian Larson organized a topic on Popular Culture and New Technology. Within the topic, he presented "A Call for the Sociology of Video Games," Sean Jones presented " Advocating for Social Change in Punk Music: A Latent Function of Entertainment," and Arely Sanchez presented "The Media's Portrayal of Women Murderers/Killers." Kelly Gmeiner presented "Why People Attend Music Festivals Beyond the Music" within the Student Research topic.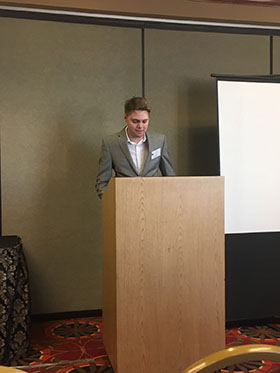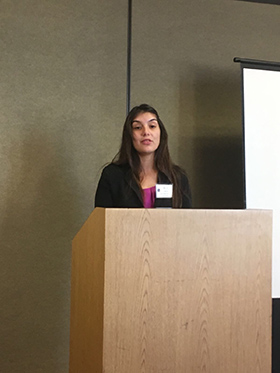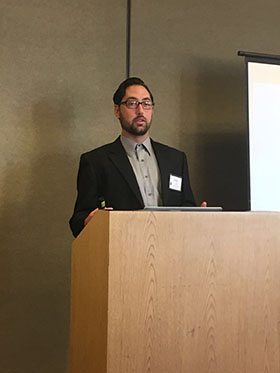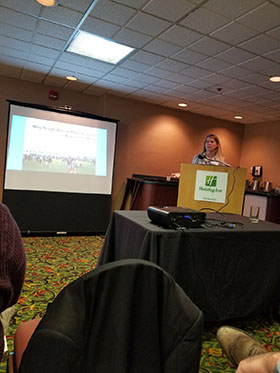 Commencement 2017
Congratulations to the graduates of 2017! Commencement was held on Friday, May 12, 2017.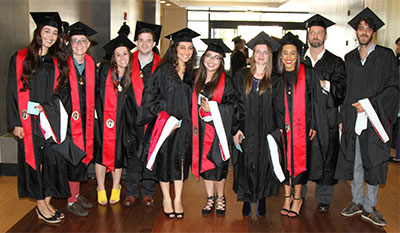 2017 Favorite Faculty Awards
Each year, the students living in the residence halls are asked to nominate their favorite faculty member at SDSU. As a result, Residential Education collects hundreds of nominations and invites the faculty members with the highest number of votes to an award ceremony. At this ceremony, the faculty members receive recognition in front of honored guests including Associate Vice President Joanna Brooks. Out of the twenty five Favorite Faculty Award nominees campus-wide, four were from the Sociology Department! These nominees include Jung Choi, Amy Wong, Tom Semm and David Gauss.
Congratulations nominees!


College of Arts and Letters Excellence in Teaching Award
The College of Arts and Letters selected Amy Wong, Professor of Sociology, to receive the Excellence in Teaching Award. She was recognized at the last Chairs and Directors meeting on May 11, 2017. The award recognizes the commitment to engaging and motivating diverse student populations in learning and critical thinking; a record of garnering excellent student evaluations; and making
Award and New Book
Congratulations to Sociology lecturer, Daniel Davis for his award at the American Sociological Association for best article in the Soc of Ed section: Career Funneling: How Elite Students Learn to Define and Desire 'Prestigious' Jobs, with Amy Binder and Nick Bloom, 2016, Sociology of Education, 89(1): 20-39.
He also has a new book being published on Oct 1, 2017 by Stylus Publishers: Contingent Academic Labor: Evaluating Conditions to Improve Student Outcomes.



Social Movements and Protest: Nonviolent Strategies and the State
Conference: May 5-6, 2017
This conference is planned as an informal and friendly gathering to present your current work, discuss it with others, network, and, generally, ponder the new directions in which our field is heading. Plenary sessions will emphasize strategies, tactics, and nonviolent approaches to social change.
Learn more by visiting the conference website.


SDSU Sociology Graduate Students
Five Sociology graduate students presented their research posters at the 10h Annual Student Research Symposium (SRS), held on March 3-5, 2017 at SDSU.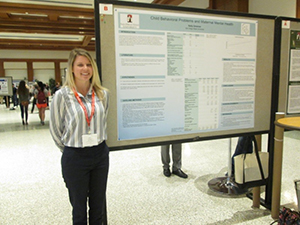 Child Behavioral Problems and Maternal Mental Health
by Kelly Gmeiner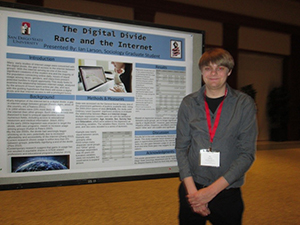 The Digital Divide Race and the Internet
by Ian Larson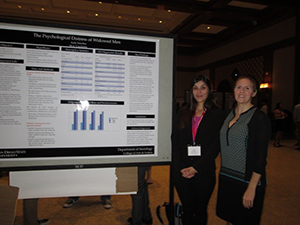 The Psychological Distress of Widowed Men
by Arely Sanchez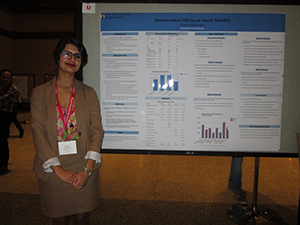 Incarceration Effects on Social Mobility
by Denise Hernandez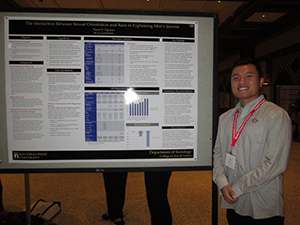 The Interaction Between Sexual Orientation and Race in Explaining Men's Income
by Thuan Nguyen
In Memoriam
Professor Emeritus, Joan Werner passed away February 14, 2017. She was a member of the Sociology Department from 1965 to 1998. She earned her PhD from Syracuse University. Professor Werner did not wish to have a Memorial Service.
Commencement 2016
Sociology Department Commencement Ceremony was held on Friday, May 13th at 7:00 pm in the Peterson Gym. One hundred seventy-one (171) undergraduates received Bachelor's degrees and ten graduates received Master's degrees. Please click here to view the list of graduates (Honors graduates shown in bold).
Moving on Up
New faculty member, Dr. Joseph Gibbons was recently featured in a SDSU NewsCenter article titled, Moving on Up. The article profiles his research on the hypothesis that new mass transit options lead to gentrification. Gibbons and his colleague, Dr. Michael S. Barton at Louisiana State University, examined data from New York City, and compared changes in median income in relation to changes the transit system. They found initially that income levels did tend to rise when mass transit options increased. Upon further analysis, when other demographic factors were added, they found that the correlation between income and mass transit virtually disappeared; leading them to conclude that other demographic factors were just as important in the changes to income, as transit options.
Read the full article on the SDSU NewsCenter website.
Mobilization Turns Twenty
Mobilization is the leading journal of research in collective action, social movements, and contentious politics. The field's leading researchers and theorists choose to publish in it. The quarterly journal was founded in the Department of Sociology is in 1996 by Professor Hank Johnston, and has been published continuously in the department since then. Its stature as one of the top journals in American sociology was established in its early years, thanks to a distinguished editorial board and the cutting-edge articles—widely cited to this day—from the field's top scholars. It is fair to say the Mobilization has been a force guiding the field of social movement research to its full maturity over the last twenty years. This year Mobilization celebrates its twentieth anniversary. At its founding, Mobilization's goal was to advance the systematic, scholarly, and scientific study of protests, strikes, riots, insurgencies, revolutions, and other forms of collective action, and to provide a forum for the discussion of methodologies, theories, and conceptual approaches across the disciplines of sociology and political science. In recognition of the interconnectedness of the global community of researchers in the field, of the globalization of social movement activism, and of the need for crossnational comparisons for theoretical advance, Mobilization was, at it inception, promoted as an international journal. One third of its subscribers today are scholars outside the United States, mostly from Canada and Western Europe, but also from as far as China, New Delhi, Bangkok, Malta, Crete, Turkey, and Qatar. The world's top research universities make it available to their faculties and students: Cambridge, Oxford, Sciences Po, École normale supérieure, Université de Paris, Colégio de Mexico, Peking University, Tokyo University, Hong Kong, Leipzig, Milan, Rome, and so on. Mobilization at SDSU provides rich opportunities for graduate and undergraduate students looking forward to PhDs to experience first hand the process of scholarly writing and publication. It continues to be a source of global prestige for the department of sociology.
Wage Theft, Time Theft, and Discrimination in San Diego County Restaurant Jobs
Dr. Jill Esbenshade's report on wage theft and San Diego County Restaurant Workers is released. The report was done in conjunction with the Center for Policy Initiatives. The report surveyed 337 employees of restaurants throughout San Diego County and uncovered disturbing numbers of legal violations and other exploitative workplace practices among restaurants.
Read/listen to the interview about the report on KPBS

New Faculty
The department would like to welcome its new tenure-track hires: Audrey Beck and Joseph Gibbons. They both will start this Fall.
Dr. Gibbons is an urban sociologist that will teach a seminar on Urban Neighborhoods and Institutions (SOC-730). He received his Ph.D. from the University at Albany, State University of New York.
Dr. Beck will teach the Sociology of Health and Illness (SOC 436) and Advanced Quantitative Methods (SOC 607). She received her Ph.D. from Duke University.