Undergraduate Student Spotlights


2021-2022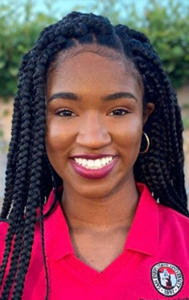 Amaya Childes
Outstanding Graduating Senior
Amaya Childes has been selected Sociology's Outstanding Graduating Senior of 2022. She joined SDSU in August 2019 and graduated Summa Cum Laude with a BA in Sociology, minor in Interdisciplinary Studies, and a certificate in Human Rights. Amaya was an outstanding student, being on the Dean's List for each semester she has been at SDSU. Many faculty members have recognized Amaya as one of the top students that they had in their classes, always a focused and active participant, critically engaging with course materials. From her first year, Amaya has participated in a variety of student leadership positions, through the residential education halls, student government, and Greek life. She has been a Residential Advisor and Community Assistant under the Department of Residential Education Office and she has been recognized as Resident Advisor of the Month. She has been twice elected to the position of the Executive Vice President of the College of Arts and Letters Student Council. She also served as President of the Delta Gamma Chapter of Sigma Gamma Rho Sorority Incorporated, and holds an executive position on the National PanHellenic Council as well. Amaya has been involved in other services, as a member of the Mustard Seed Project, a member of Rotaract, and a volunteer of the BuildIT Center in the SDSU Library. As she has always been interested in working in public office, she worked as a Mayoral Intern in the Office of the Mayor, Todd Gloria, of San Diego. With her outstanding leadership experience and service for campus community as well as her excellent academic performance, Amaya has been selected for the 2022 Quest for the Best Award at SDSU. Amaya considers her experience in Dr. Minjeong Kim's research team as one of the most impactful experiences at SDSU. The team investigated racial representations of voice actors in popular animated films and she felt that her passion for sociological analysis peaked during this process.
Chosen by the Department of Sociology Faculty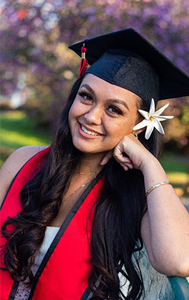 Alana Godoy
Outstanding Graduating Senior
Alana Godoy is graduating with honors earning a degree in both Anthropology and Sociology. A transfer student from Southwestern Community College, Alana is a member of Phi Theta Kappa Honors Society and Tau Sigma Honors Society. She is also on San Diego State University's Mortar Board. While studying at SDSU, Alana has also been earning an associate degree in Hawaiian Studies from Windward Community College.
As the first person in her family to graduate from college, she hopes that she's made her family proud and has set an example for her three younger siblings that they can accomplish whatever they put their heart and mind to.
Growing up as a Polynesian dancer, she has spent much of her life volunteering and staying active in San Diego's Pacific Islander community. From 2017 to 2020, Alana served as Miss Pacific Islander of San Diego First Princess and Miss Charity, allowing her the opportunity to create several service projects, attend a variety of community events, and grant her with the financial support to continue pursuing higher education. She completed a fellowship in 2020 with APPEAL, the Asian Pacific Partners for Empowerment, Advocacy, and Leadership, advocating and promoting tobacco-free policies for AANHPI communities. As a Polynesian dancer, Alana has travelled with her dance group Kaleo Onalani, to Spain where they performed and taught workshops at the Pacific Islander Festival of Europe. Inspired by her work in the community, Alana created a YouTube channel and website called Sincerely, Alana, where she educates minority youth about current social issues, the effects of historical trauma, opportunities to pursue higher education, and promoting self-confidence.
Throughout her high school and college career, Alana has worked in a variety of corporate positions at several companies including Umpqua Bank, Guild Mortgage, the Asian Real Estate Association of America, and Maeva Tours. Despite enjoying roles such as executive assistant, event coordinator, and project manager, Alana finds more enjoyment in her roles as a nanny, travel agent, and content creator where she is able to educate, help, learn from, and connect with people from around the world.
Chosen by the Sociology Department faculty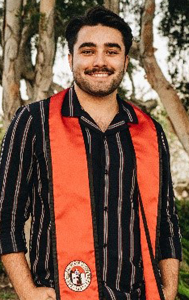 Diego Smith
Award for Excellence in Sociological Research
When SDSU transitioned to virtual classes, students lost a lot of important resources that make college manageable. We lost the ability to make meaningful connections with our peers and professors. We lost the motivation that comes from being in a dynamic campus environment. In Fall 2020, my survey research methods class created a survey to understand the ways SDSU students were impacted by the Covid-19 pandemic and the switch to online learning. We gathered responses through convenience sampling, recruiting participants through our personal connections and networks. This sampling method was beneficial for us because, since campus was physically closed, we were limited in the ways we could recruit participants. Having lived through this jarring transition myself, I became very invested in understanding how students were doing academically, financially, and emotionally. This semester, I started to analyze the survey data with SPSS, extracting descriptive statistics as well as comparisons between certain groups through statistical tests like ANOVA and t-test. Through this analysis I learned that students' mental and physical health declined due to the pandemic. Students also reported that their grades and understanding of the course material were negatively impacted by the switch to online learning, many blaming their professors' lack of preparation and accommodation. I found it critical that these enlightening results be brought to the attention of a wider audience. Therefore, I presented the findings of this survey at the 46th Annual CSU SSRIC Social Science Student Symposium. With the help of Professor Audrey Beck, I also plan on sharing the presentation with the SDSU administration with the hope that they come to understand how their handling of the pandemic affected the wellbeing of students.
This award recognizes a graduating undergrad student in excellence in research that advances issues of sociological importance. This student demonstrates mastery of sociological methods and analysis as a means for improving human wellbeing and/or addressing social inequalities. Although student research within a class will be considered, special consideration will be given for research which is presented at academic conferences or for community members and/or is disseminated beyond the classroom setting (e.g. policy report, academic publication, social media engagement, website platforms, etc.). Evidence of your work is required and faculty contact information from someone who could verify your work will need to be provided.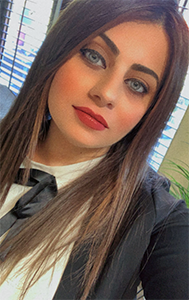 Jolyana Jirjees
Award for Excellence in Community Engagement
My community work primarily focuses on helping my Chaldean community understand, enroll in, and be motivated to further their education. I support aspiring and current students by assisting with financial aid applications, making appointments, job searching, and making use of other student services. As an Iraqi refugee, it was very important that I help my community members overcome the cultural shock upon arrival in the U.S. and make the transition smoother. I do this through facilitating workshops, family gatherings, and other types of community organization. I have also volunteered at the Chaldean Middle Eastern Social Services nonprofit by interpreting, delivering food to families in need, and helping the sick and elderly. With the support of other students, we established the Love and Hope organization at Saint Michael Church to help at-risk and special needs children. We now have over forty volunteers, assisting more than two-hundred children. I am currently working for a new social services organization in my community.
This award recognizes a graduating undergrad student in excellence in service to the community. This student embodies sociological concepts in their engagement with the community; the community engagement serves to improve human wellbeing and/or address social inequalities. Community may include the disciplinary community (professional sociology organizations, Sociology Club, etc), the university community, the local community outside the university, or the global community.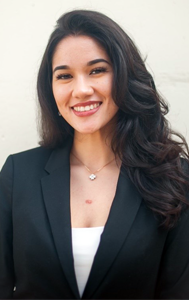 Abigail Tamayo
Award for Excellence in Community Engagement
As someone who knows and has seen the painful outcomes of economic and social injustices, advocacy for both is vital for those who are marginalized. That means accessibility to basic needs such as food, housing, and financial security for marginalized communities. This is something that I fight for in every opportunity I get. I've been involved with Tijuana Home build as the Director of Fundraising, an organization that raises money to build a home for a family in Tijuana living in poor conditions. I've been involved with Associated Students for 3 years as the student support commissioner and served on the board of directors. I'm a student advocate for the Economic Crisis Response Team (ECRT) where I guide and educate students on resources avail to them if they are experiencing food, financial, and housing insecurities. Through my positions in student government and ECRT, I started the beginning phases of a program where students can donate the rest of their meal plan money at the end of the school year to other students facing financial hardships. Furthermore, outside of SDSU, I'm a part of the San Diego Fridge Project where I cook hot meals for those who are unsheltered in San Diego neighborhoods and I help maintain community fridges where anyone in need can take food for free. I am also a part of a Filipino based organization called Bayanihan Community Response that does similar work to ECRT but mainly for vulnerable Asian communities. My experiences and contributions to my community have shaped my perspective on access to social mobility and has given me an opportunity to address equity gaps and social injustices.
This award recognizes a graduating undergrad student in excellence in service to the community. This student embodies sociological concepts in their engagement with the community; the community engagement serves to improve human wellbeing and/or address social inequalities. Community may include the disciplinary community (professional sociology organizations, Sociology Club, etc.), the university community, the local community outside the university, or the global community.