Steps Toward Earning a Master's Degree in Sociology
Each of the following steps are sequential and mandatory. The following sections detail each step.
Apply for Admission to the University



Transcripts and GRE to University Admissions
Letters of recommendation, personal statement, copy of transcript and writing sample to Department.

Read the Graduate Bulletin and Consult Departmental Graduate Adviser



Register for appropriate classes in accordance with these consultations

Attain Classified Graduate Standing (if admitted conditionally)



Complete requirements and inform Adviser to change status

Submit an Official Program of Study



After half your courses are complete and before you Advance to Candidacy
You must do this through the Graduate Adviser
You must decide whether you are doing Plan A Thesis or Plan B Comp Exam (CE) option.

Attain Advancement to Candidacy



Choose a thesis topic OR Comp Exam field of study
Choose a chair
Develop a proposal (Thesis) OR Reading List (CE)
Have the

Thesis Proposal Approval Form

OR

CE Agreement Form

signed by chair and second committee member
Submit signed Proposal Approval Form or signed CE Agreement Form to Graduate Adviser to be advanced to candidacy

Apply for IRB Clearance if you are using human subjects or certain databases (check w/ IRB)


Submit a Thesis Committee Form to Grad Division (if doing Plan A)



You must be Advanced to Candidacy
You must have proof of IRB submission
Grad Division will then give you the code to register for 799A

Register for 799A (step 7 must be complete) if in Plan A or register for 797 (independent study) in Plan B


Conduct study and write thesis OR write essay and take written exam portion of CE by deadline



If this takes more than one semester must register in 799B for each semester until completed for thesis OR continue with independent studies for CE
Expect to write multiple drafts of thesis or comp exam essay

Thesis defense OR oral exam for CE



Once chair has given preliminary approval and other members have reviewed the thesis you may schedule the defense OR all oral exams for CE's are done near the end of the semester according to schedule distributed by Grad Adviser each semester.

Submit thesis to thesis reviewer OR chair must submit CE Results to Grad Adviser to Report to Grad Division



Make sure thesis formatting is correct and check deadlines each semester (Plan A)

File an Application for Graduation



Must be done by deadline listed in academic calendar (usually third week of the semester)
Must re-do if not finished in semester expected
If you have filed your thesis at the very end of a semester and it is not approved, you must re-file for graduation the following semester but do not need to pay registration or tuition fees.
Dr. Jung Min Choi
Graduate Advisor
Office: NH-204
Email: [email protected]
Griffin Cassell
Graduate Program Coordinator
Office: NH-224
Email: [email protected]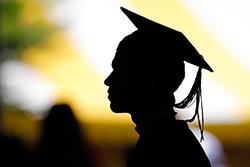 Program At-a-Glance
Important Links
Forms