Comprehensive Exam (Plan B)
A comprehensive examination is defined by the CSU as an assessment of the student's ability to integrate the knowledge of the area, show critical and independent thinking, and demonstrate mastery of the subject matter. The results of the examination evidence independent thinking, appropriate organization and high level of writing competency, critical analysis, and accuracy of documentation.
The exam functions as a capstone experience, with students drawing upon and synthesizing disciplinary knowledge acquired in their coursework. It also functions as a demonstration of competence (broad-based knowledge of some important disciplinary issues) and in some cases it provides an opportunity for students to develop research interests they have been working on for some time.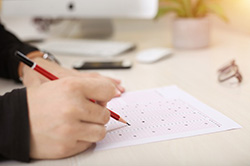 Important Links
Dr. Enrico Marcelli
Office: NH-219
Phone: (619) 594-5459
Email: [email protected]
Advising Hours for Spring 2019: Wednesdays and Thursdays 12:30-2:00pm and by appointment.