Application Process
Step 1: Submit a University Online Application via Cal State Apply by Feb 1.
All applicants must fill out an online application on

Cal State Apply

and pay the required fee. Additional details can be found at

Graduate Admissions.
A SDSU RED ID Number will then be assigned which allows tracking of application status online.

Step 2: Send official transcripts and test scores to Graduate Admissions by March 1.
If applicable, TOEFL test scores must be sent directly from ETS. (Institution Code: 4682)
Official transcripts (in sealed envelopes)

issued within the last year

from all colleges and universities attended.

Send to:

Enrollment Services
Graduate Admissions Document Processing Unit
San Diego State University
San Diego, CA 92182-8225

Electronic transcripts are acceptable. Please ensure that you indicate this preference when making your request. If you are required to provide an email address to send the secure online document to SDSU, please use [email protected].
Note: (1) Do not send transcripts before submitting the Cal State Apply application as this may result in processing delays. (2) If you previously attended SDSU, you need only submit transcripts for work completed since last attendance. (3) If you are a current SDSU student, you are not required to submit an SDSU transcript.
International documents: If you have international coursework, you must have your school send us one official original-language record of all academic coursework and proof of degree. For each document you must also send a certified literal English translation, which can come directly from the school itself or from a professional, certified translator. The translation must contain all information shown on the original-language documents. For details on which documents are required, visit the Requirements by Country page.

Step 3: Complete the Sociology Department application via Interfolio by March 1.
The Sociology MA Program application requires the following items be submitted to them via Interfolio.
A statement of purpose -- include your areas of interest and which faculty members you would like to work with. Please limit response to 750 words.
A writing sample -- preferably an academic paper and include a brief explanation describing the purpose, or context, for your paper. If this is not available, include an extended three to five (3-5) page personal statement. Additionally, you may upload other documents in support of your application.
Three letters of recommendation -- at least two of your letters of recommendation must be from persons who can speak to academic ability.
Unofficial copies of transcripts from all colleges and universities attended – these do not need to be sent directly from the colleges, photocopies are acceptable.
*Prospective international students requiring an F-1 visa should apply as soon as possible. For detailed instructions on this admissions process please visit the International Admissions website.


Dr. Jung Min Choi
Graduate Advisor
Office: NH-204
Email: [email protected]
Griffin Cassell
Graduate Program Coordinator
Office: NH-224
Email: [email protected]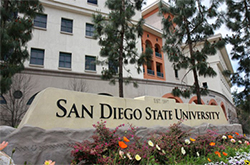 Program At-a-Glance
Important Links
Forms