Two ColumnsDepartment of Sociology
Improving Human Well-Being by Investigating Social Inequalities
A Statement of Solidarity with Black Lives Matter and Against Anti-Blackness
SDSU's College of Arts and Letters stands in solidarity with our Black communities. We denounce racism in any form and violence against Black people, and we stand firm in our belief that Black lives matter.
As a community of university faculty and staff, it is our duty to actively support and advocate for solutions to systemic racism across our nation, the world, and our campus. Read the full statement.

Upcoming Events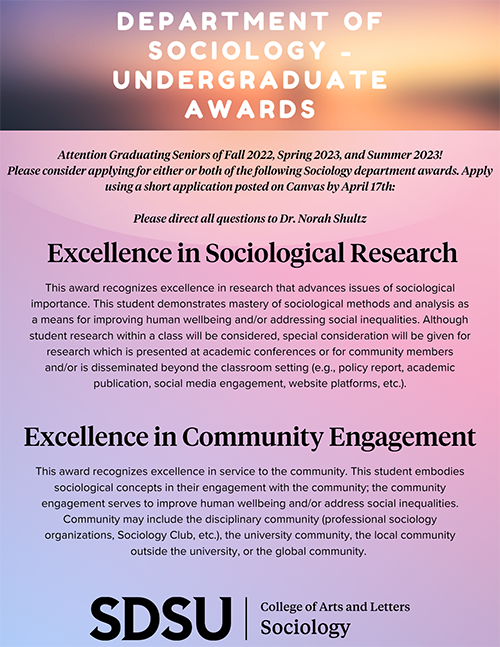 Undergraduate Awards
Attention Graduating Seniors of Fall 2022, Spring 2023, and Summer 2023!
Please consider applying for either or both of the following Sociology department awards. Apply using a short application posted on Canvas by April 17th.
Please direct all questions to Dr. Norah Shultz at [email protected].
Excellence in Sociological Research
This award recognizes excellence in research that advances issues of sociological importance. This student demonstrates mastery of sociological methods and analysis as a means for improving human wellbeing and/or addressing social inequalities. Although student research within a class will be considered, special consideration will be given for research which is presented at academic conferences or for community members and/or is disseminated beyond the classroom setting (e.g., policy report, academic publication, social media engagement, website platforms, etc.).
Excellence in Community Engagement
This award recognizes excellence in service to the community. This student embodies sociological concepts in their engagement with the community; the community engagement serves to improve human wellbeing and/or address social inequalities. Community may include the disciplinary community (professional sociology organizations, Sociology Club, etc.), the university community, the local community outside the university, or the global community.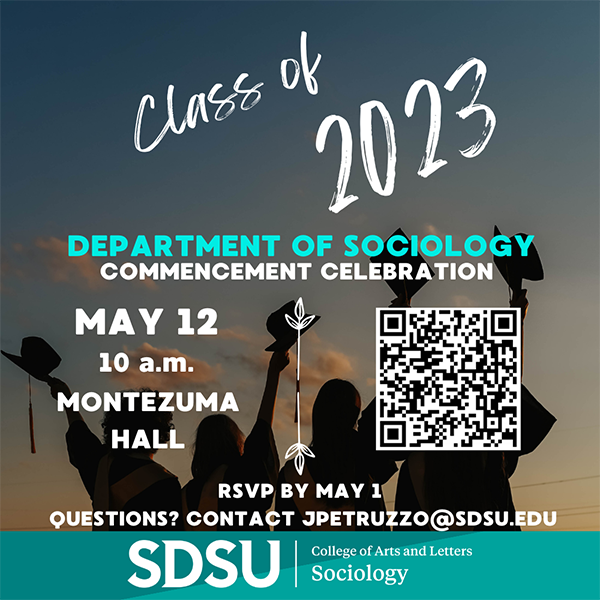 Congratulations to the Class of 2023
Department of Sociology Commencement Celebration
Friday, May 12 | 10 a.m | Location Update! Montezuma Hall
RSVP by May 1
Questions? Contact [email protected].


College of Arts and Letters Undergraduate Commencement
Friday, May 12 | 1 p.m. | Viejas Arena
Learn more
Graduate Studies Commencement
Friday, May 12 | 5 p.m. | Viejas Arena
Learn more
Sociology Newsletter
Read our newsletters: Fall 2022 | Fall 2021 | Fall 2020 | Fall 2019 | Fall 2018


Important Links
Calendar of Events
Follow us on Facebook